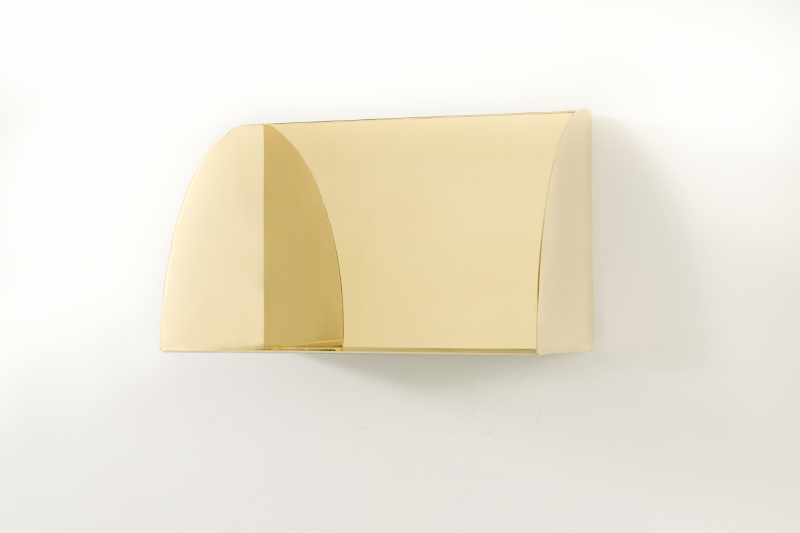  
Aperture
Modular shelves
Aperture is a modular shelf that can be hung to the wall both vertically and horizontally, alone or in combination with other shelves. Available in two different finishes.
You can enrich each shelf by adding a super mirror reflective sheeting.
Furnish
Finishes
Dimensions and Weight
Made-to-measure
Aperture is a modular shelf with which you can create multiple combinations according to your decorating needs, ideal for small and large spaces.
It is perfect for enriching and rendering corners functional. Great for storing objects in entryways or above desks and consoles. With a bit of imagination, you can create various compositions that extend in height or width to create an entire wall unit.
To give a touch of lightness, it is possible to add a mirror sheeting (chrome or 24-carat gold in colour) that adds depth to the shelf.
Aperture is made of hand-wrought iron.
It is spray painted - in black or white - or can be made with a galvanic gold finish that gives reflective properties to the metal.
The spray painting is comprised of acrylic enamel with two components of high opacity. It is stretched by hand and dried at low temperatures. The paint type is that of bodywork, with unique aesthetic and tactile features.
From an aesthetic point of view, the paint has deep opacity and almost completely absorbs the light accentuating the perfection of the shapes. To the touch, it is extremely smooth and gives an almost textile feel. It almost seems like you are touching a fabric beneath your fingers. 
Care instructions: clean with gentle products for steel.
L 39 cm
W 26 cm
H 26 cm
7 kg
All items can be customised in terms of size, finish and colour. For any inquiries, please contact me directly by calling +39 328 3055485 or emailing info@marcoripa.it.
Handmade in Italy

Are you a storekeeper or a professional? Sign up and request access to the discounted price list reserved for you, by sending an email with the data of your VAT number to info@marcoripa.it.

Free shipping in Italy