 
Vaso
Single-flower vases
Composition of 3 single-flower vases. Suitable for both real and fake flowers. They are able to hold water. Available in two different finishes.
Furnish
Finishes
Dimensions and Weight
Made-to-measure
Vaso is actually comprised of three vessels. Each piece has a hole able to hold a thin object: a stem, a flower, a feather, etc.
You can add water to hold a real flower. Alternatively, it can be adorned with a metal flower of our creation, sold separately (Fiordiferro).
The three vases can be secured with magnets to a metal disc (supplied in the package) or separated and used individually.
Vaso is an object able to captivate those who love perspectives. There are at least two perspectives that trick the eye: viewed from the front, the three objects create the illusion of being a single vase with traditional lines; seen from the side, Vaso seems like three monoliths with different heights.
Thanks to its minimalism, it is an object that is suited both in modern and classical decors with a touch of extravagance.
Thanks to its play in perspective, it is perfect to be placed at the centre of the table where it can be seen at 360°. It can also enrich an entire shelf or console and even embellish a bookcase full of books.
The vases are made of a block of aluminum and spray painted.
Powerful neodymium magnets are applied to the base to render them stable on any metal surface. A metal disc is supplied in the package so that that they can be placed on any surface.
The spray painting is comprised of acrylic enamel with two components of high opacity. It is stretched by hand and dried at low temperatures. The paint type is that of bodywork, with unique aesthetic and tactile features.
From an aesthetic point of view, the paint has deep opacity and almost completely absorbs the light accentuating the perfection of the shapes. To the touch, it is extremely smooth and gives an almost textile feel. It almost seems like you are touching a fabric beneath your fingers. 
Care instructions: clean with gentle products.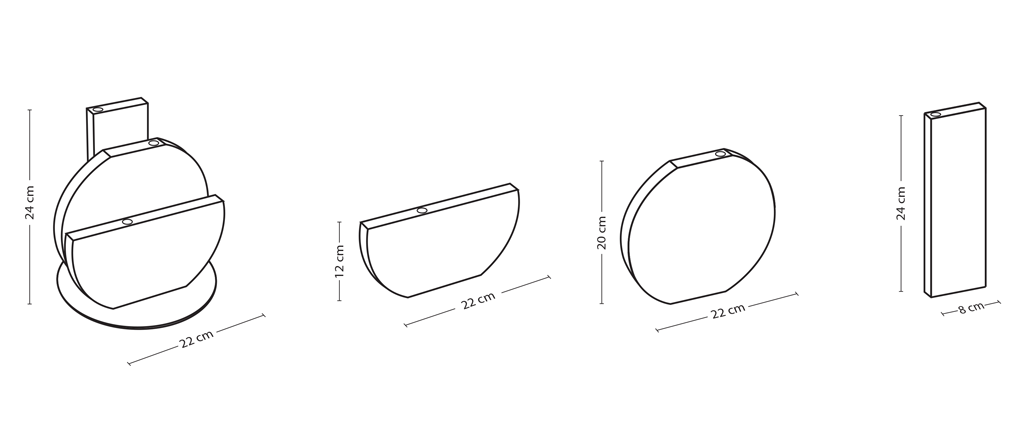 BASE
Ø 22 cm
50 gr

BODY
L 22 cm
W 6 cm
H 24 cm 
5 kg
All items can be customised in terms of size, finish and colour. For any inquiries, please contact me directly by calling +39 328 3055485 or emailing info@marcoripa.it.
Handmade in Italy

Are you a storekeeper or a professional? Sign up and request access to the discounted price list reserved for you, by sending an email with the data of your VAT number to info@marcoripa.it.

Free shipping in Italy