 
Fun house - Kit
Modular bookcase
Fun House is a modular system made in metal sheeting. The kit consists of four cubes and a parallelepipedon that are assembled by magnets, available in three different finishes. Each piece can perform different functions: pouf, table, bookcase, container.
Furnish
Finishes
Dimensions and Weight
Made-to-measure
Each piece can be hooked to the other via magnets, creating a composition that extends vertically or horizontally.
The same cubes can also be used individually as a pouf or as nightstands.
The parallelepipedon can serve as a table in the living room or as a bench.
Space saving function: the parallelepipedon can contain 2 cubes within it, to hide and pull out when needed. 
Fun House is made of iron and is hand-welded.
The pieces of this kit (4 cubes and 1 parallelepipedon) are available in three different finishes:
. painted white
. painted black
. natural sheeting.

The powder coating is based on synthetic resins placed in an oven at high temperatures. The polymerised paint creates an adherent and durable layer. The paintwork is scratch-resistant to high mechanical stress (recurrent rubbing). It is resistant to weathering and UV rays.
Care instructions: clean with gentle products for glass.

The natural sheeting is hot-rolled iron and comes unpainted. The metal surface retains a "raw" look, original and unique, with different shades each time. The sheeting is then waxed for protective purposes.

Beeswax protective treatment is applied. Beeswax creates a thin and delicate layer of protection. The treatment is carried out manually using a cloth on the iron sheet.
Care instructions: apply beeswax every 6 months.
L 70 cm
W 35 cm
H 35 cm

42 kg
All items can be customised in terms of size, finish and colour.
For any inquiries, please contact me directly by calling +39 328 3055485 or emailing info@marcoripa.it.
YOU CAN ALSO ADD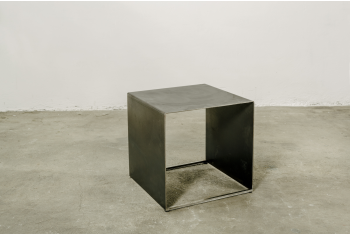 Handmade in Italy

Are you a storekeeper or a professional? Sign up and request access to the discounted price list reserved for you, by sending an email with the data of your VAT number to info@marcoripa.it.

Free shipping in Italy